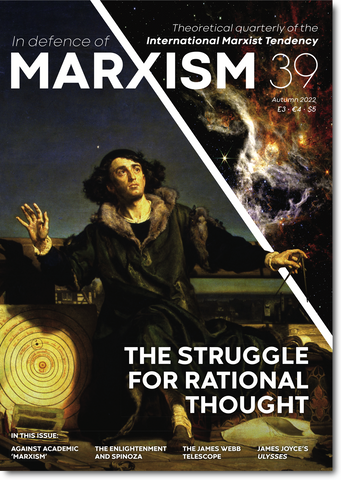 In Defence of Marxism Issue 39 (Autumn 2022)
In Defence of Marxism is the English-language theoretical quarterly of the International Marxist Tendency.
This issue: The Struggle for Rational Thought
Contents:
Editorial—Alan Woods
The Frankfurt School's Academic "Marxism": "Organized Hypocrisy"—

Daniel Morley



The Enlightenment and Spinoza's Revolutionary Rationalism—

Hamid Alizadeh



The James Webb Telescope: An Eye Onto a Universe, Infinite in Time and Space—
Revolutionary and Life Affirming: One Hundred Years of James Joyce's Ulysses—

John McInally



Laid-out, edited, and published at the UK International offices with full-color interior!
35 pages. 8 1/4" x 11 3/4" magazine format.
---
We Also Recommend