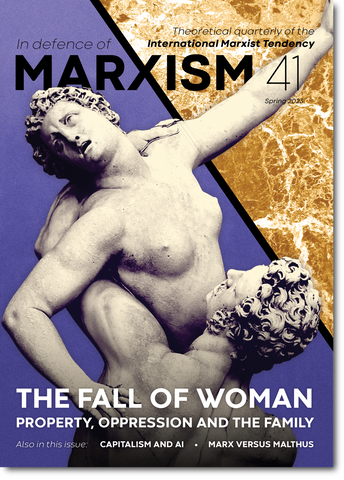 In Defence of Marxism Issue 41 (Spring 2023)
In Defence of Marxism is the English-language theoretical quarterly of the International Marxist Tendency.
This issue: The Fall of Woman: Property, Oppression, and the Family

Contents:
Editorial—Alan Woods
The Fall of Woman: Property, Inheritance and Oppression—Fred Weston
Artificial Intelligence: doomsday for humanity, or for capitalism?—Daniel Morley
Marx versus Malthus—Adam Booth
Letter from an editor: James Joyce's Dubliners—Hamid Alizadeh

Laid-out, edited, and published at the UK International offices with full-color interior!
35 pages. 8 1/4" x 11 3/4" magazine format.
---
We Also Recommend