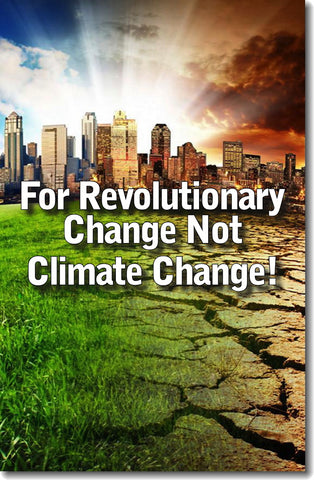 For Revolutionary Change, Not Climate Change!
50% discount off bundles of 10! Use code "CLIMATE-STRIKE" at checkout.
*Agitational pamphlet on one of the burning issues of the day*
Today the material conditions to solve the problem of climate change—and of hunger, homelessness, and disease—exist many times over. We have the technologies needed to drastically reduce our emissions, our energy demands, hunger and malnutrition, and so much more. The issue is that to deploy the technologies on the scale and with the integration required would mean taking the major monopolies out of private hands and putting them under a democratic plan of production. The problem, therefore, is not technical, but political; not a problem of nature, but of economic ownership and distribution. In short, a revolutionary transformation of society is necessary.
This booklet contains the IMT statement on the climate crisis written during the global wave of Climate Strike protests in 2019 and two articles linking this crisis with it's roots in the capitalist economic system and it's only possible solution in the class struggle for socialism.
Note that one article is duplicated from our booklet, "Capitalism, Food, and the Environment."
24 pages.
---
We Also Recommend